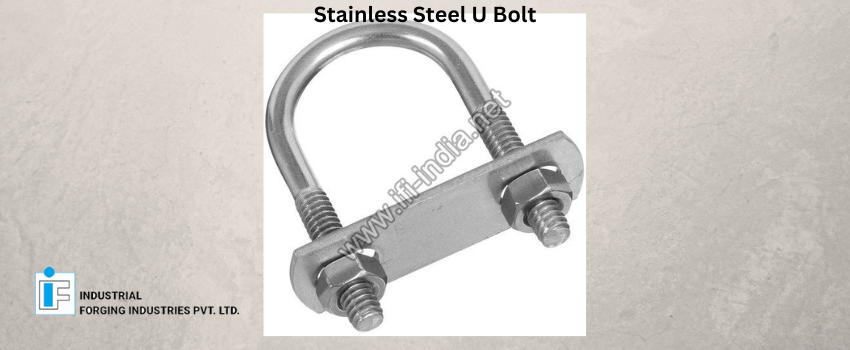 In the pipes and pipeline sector, U-bolts by the Stainless Steel U Bolt Manufacturer are curved bolts with a u-shape with threads on each end that are used as supports. One of the most popular and basic forms of piping support is U-Bolts.
They primarily serve as Rest+Guide+Hold down supports, but with certain installation modifications, they may also serve as line stops. U-bolts' curved design lets them easily fit around pipes, which are subsequently fastened to a secondary element using nuts.


Use Cases For U-Bolt
U-bolts can be used in a variety of situations. They are frequently employed as pipe support techniques. U-bolts are frequently used in plumbing systems for:


Using U-Bolts To Support Pipes
They are employed to give pipes lateral constraints. U-bolts are the most straightforward and often utilized form of pipe support for small-bore piping systems. U-bolts are frequently used in plants to support bare pipes smaller than 8 inches in diameter.
U-bolts can reduce line vibrations by giving the system more stiffness. U-bolts are a useful option for supporting vertical elevated lines of pipe.


U-Bolt Applications For Transporting Pipes:
U-bolts by the Stainless Steel U Bolt Supplier are used in the pipe and pipeline transportation sector to prevent pipe movement and breakage. U-bolts reduce erratic pipe movements brought on by heavyweights during transit.


Anchor U-Bolt (Gripped U-Bolt):
In a gripped U-bolt design, the U-bolt serves as an anchor and prevents pipe movement at the support position. The pipe U-bolt must be positioned such that there is no space between the pipe and the U-bolt to be used as an anchor.
To ensure a tight fit against the pipe at the base of the secondary support structure, both bolts are tightened. The clamp can act as a directional anchor because the friction force between the clamp and the pipe surfaces limits pipe movement in that direction.
Axial forces rise when the line stops, yet the frictional force could not be enough to resist the axial stress and slip. Because of this, U-bolts may only be used as anchors on smaller pipes, generally those up to 6 inches in diameter.


Using A Non-Grip U-Bolt As A Guide:
The most popular, straightforward to install, and capable of serving as a pipe guide is the non-gripped U-bolt. Axial rotation is not constrained by it. Non-gripped pipe U-bolts are installed with one nut on top and one on the bottom of the support beam. After tightening both nuts, there will be a gap between the pipe and the U-bolt plate.


U-bolt installation
A pipe U-bolt may be installed much more easily. The length of the U-bolts depends on the pipe's diameter. Each correctly sized U-bolt comes with threads and nuts. Depending on the kind of support, all you need to do is make a hole in the steel girder, carefully place the bolt through the holes, and secure the nuts (anchor type or guide type).
Stainless Steel U Bolt is helpful for a variety of plumbing support applications, as well as for fixing wire cables, stabilizing roofs, and securing antenna sections and other building and construction materials.